I find it fascinating that out of all my posts this year, the one that has received the most views by far, more than any other post in the 136 post history of this blog, is
Hollyweird Conspiracy: Did Homeland Security Murder Brittany Murphy and Her Husband?
To date, it has received 5,000 views. Why this post as opposed to any other on Deep Politics, the Carbon Crisis or the Radical Establishment Media? I think it's because our society has always had a deep fascination with Hollywood. It's one of the largest industries in civilization devoted to creating something completely fictional. But it reaps tremendous profits because of the verisimilitude with which they craft their product, as well as because of the alluring elements with which it is packaged. You've got exciting stories acted out by beautiful and compelling personalities executed with camera and computer technical expertise so seamless, it makes the unreal seem real.
But more to the point, it is probably my most popular post because a new wrinkle in the story has cropped up in the news again. Brittany Murphy's biological father, Angelo Bartoletti, revealed on November 19, 2013, that a new toxicology report indicates she may have been
poisoned
. After reportedly suing to obtain Murphy's hair samples, the test
results
from the Carlson Co. lab show the presence of high levels of 10 heavy metals in her hair, indicating the source could be "a third-party perpetrator with likely criminal intent." Considering how strange it was that Murphy's husband, Simon Monjack, also died in the same fashion that she did 5 months later, the next logical step would be to test Monjack's hair to see if the same high levels of heavy metals also are present. If so, reopening the investigation would be essential to discover the truth of what really happened.
That sort of logical step isn't likely to take place. The following week, Brittany's mother Sharon Murphy
blasted
Bartoletti, saying he "was never a real father to her in her lifetime," and that he and filmmaker Julia Davis, who made the documentary alleging Homeland Security may have played a role in Murphy and her husband's death that I wrote about previously, were doing this "to make them money and bring them the fame they desperately crave." Yet Sharon Murphy herself disputes the official story, believing toxic mold responsible, as opposed to natural causes. She even filed a lawsuit against the builders of the home, then later dropped the suit. It would seem the responsible thing for the media to do is to find the middle ground in this dispute by demanding real answers as opposed just publicizing the personality clashes.
However, it seems the consensus on the subject is wrapping around dismissing the report and sweeping any outstanding questions under the rug. It's certainly possible that the metals could have come from a benign product like hair dye or foods, as
Slate
reports. But asking for a definitive answer to whether Monjack also had these metals present, combined with blood and tissue samples from both, seems to be one of those questions that shouldn't be asked because it will make you
look
bad, that to even
consider
the possibility the sort of thing to get smacked down the way
Salon
dismissed those questioning what happened to Michael Hastings with the headline/demand: Stop Speculating About Hastings' Death. It is this type of atmosphere that I believe has lead to cranks coming out of the woodwork like this
"friend"
of Simon Monjack who remains conveniently anonymous, yet splashes the headlines of a rag controlled by Bilderberg big-wig Roger Altman to convey that Monjack was a "delusional" conspiracy theorist - as though that intimation alone is enough to dispel any thought he and his wife might possibly have been murdered.
Digressing slightly back to the subject of
Michael Hastings
, I have to ask: what's up with all the exploding cars this year? When this tragedy occurred on June 18, 2013, the general reaction to the explosion of his car, often with no conspiratorial theorizing attached whatsoever, was how unusual the occurrence is. On the site The Truth About Cars,
Jack Baruth
expressed it best:
"I'm here to state that I've seen dozens of cars hit walls and stuff at high speeds and the number of them that I have observed to eject their powertrains and immediately catch massive fire is, um, ah, zero. Modern cars are very good at not catching fire in accidents."
So in response to this as well as all the conspiracy hypothesizing that did occur, I kept my eyes and ears open to car accidents resulting in Hollywood-style booming explosions. I found a number of horrific crashes around the globe that
didn't
result in fiery explosions. Then last month, it happened again, coincidentally enough, in southern California:
2 Killed After Car Crashes Into Palm Tree in Riverside



Two people were killed Wednesday when a

car burst into flames

after hitting a tree in a Riverside neighborhood.


Two people were killed when a car crashed into a palm tree in Riverside Wednesday. (Credit: KTLA)

The crash happened on Jackson Street near Sage Avenue at about 3 a.m. when the car slammed into a palm tree, according to authorities.

Aerial video from Sky5 showed the car had split into pieces and burned on a neighborhood sidewalk.

The car was traveling through the neighborhood at a high rate of speed, according to neighbors.



"I thought a bomb went off,"

one person said about the noise he heard when the car struck the tree.

Both victims were inside inside the car when it crashed. Their identities were not immediately released.

The cause of the crash was under investigation. (emphasis added)
Then it happened a third time. Again, it happened in southern California. Again, the car exploded in flames like out of a big-budget Hollywood movie. Tragically, two people were killed, including a famous Hollywood actor:
Officials: Paul Walker crash not part of street race


Dec. 3, 2013, 8:01 AM EST
By JUSTIN PRITCHARD , Associated Press

LOS ANGELES (AP) -- While the neighborhood where "Fast & Furious" star Paul Walker died in a fiery crash is known to attract street racers, law enforcement officials do not believe the Porsche he and a friend were riding in had been racing another car.

Accident investigators "have received eyewitness statements that the car involved was traveling alone at a high rate of speed," the Los Angeles County Sheriff's Department said in a statement Monday. "No eyewitness has contacted the (department) to say there was a second vehicle."

Walker and his friend and fellow fast-car enthusiast Roger Rodas died Saturday when Rodas' 2005 Porsche Carrera GT smashed into a light pole and tree, then

exploded in flames

. The posted limit was 45 mph.

The two had taken what was expected to be a brief drive away from a charity fundraiser and toy drive at Rodas' custom car shop in Valencia, about 30 miles northwest of Los Angeles. Walker's publicist said the action star was the passenger.

The crash happened on a street that forms an approximately 1-mile loop amid industrial office parks. It is rimmed by hills and relatively isolated from traffic, especially on weekends when the businesses are closed.

"It's well-known out here that that's a hot spot for street racers," California Highway Patrol Sgt. Rick Miler said.

Skid marks are a testament to past antics on the loop. The sheriff's department, which polices the neighborhood, said Saturday's wreck was not the first speed-related crash there, but would not reveal specifics.



Meanwhile, investigators are consulting video from security cameras, talking to witnesses and analyzing physical evidence such as on-board computer data from the Porsche.



A steady stream of fans has flocked to the crash site to leave flowers, candles and memorabilia from the action films.

On Monday night, a private memorial for survivors and the cast and crew of the "Fast & Furious" movies was held inside a white tent erected around the crash site. When it was over, Walker's co-star Vin Diesel emerged to thank fans for paying their respect to the actor.

"Thank you for coming and showing that angel up in heaven how much you appreciated him," Diesel said to the crowd, using the bullhorn of a police cruiser.

Officials have not named either person found in the car. The bodies were so badly burned by the fire that engulfed the wreck that dental records will be needed to confirm their identities.

Walker and Rodas had bonded over their shared love of fast cars.

Rodas, 38, and Walker, 40, co-owned an auto racing team named after Rodas' shop, Always Evolving. Rodas was a financial adviser as well as a professional driver who competed in 10 Pirelli World Challenge GTS races in 2013. He finished second in rookie of the year standings, circuit spokesman Dave Drimmie said.

Walker starred in all but one of the six "Fast & Furious" blockbusters. He had been on break from shooting the latest installment; Universal Pictures has not said what it plans to do with "Fast & Furious 7," currently slated for a July release. (emphasis mine again)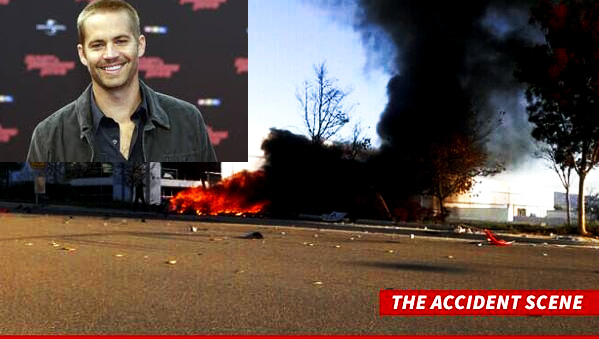 So what's going on with the
regularity
of real-life exploding cars in southern California? Does it all have something to do with computers in cars? Is this some sinister
NATO
psy-op? (Thanks to elfismiles from Rigorous Intuition for that link.) Or just one of those strange coincidences that just happens, try not to read too much into it. I'm feeling troubled about this. Were cars exploding just as regularly in past years and I just wasn't paying attention?
Naturally, plenty of conspiracy hypotheses cropped up around the death of Paul Walker alleging some nefarious reason for murder, par for the course in the "conspiratainment" universe. Just rumors, and nothing to warrant being considered an actual theory. One of the rumors, that Walker was killed because he found out the charity he works on behalf of was supplying victims of Typhoon Haiyan with a prototype sterilization drug hidden in the medical supplies and food. Certainly an intriguing premise, considering how I've
documented
in the past how charities have been used as
fronts
for intelligence operations. But to date, it is a premise without evidence where the death of Paul Walker is concerned.
What I find even more intriguing regarding the death of Paul Walker is not the conspiracy rumors, but the coincidences. Sometimes the sheer number of coincidences in a case can pile up so high, like the shared details of the
Lincoln and Kennedy assassinations
, it makes you wonder whether the whole concept of coincidence is not in itself a cosmic conspiracy. Consider these strange synchronicities, courtesy of divideandconquer at Rigorous Intuition:
As Peter Levenda wrote in
Sinister Forces
, "At this point, we can almost sympathize with Pontius Pilate, who asked, "What is truth?" - and the temptation to wash one's hands of the whole matter is almost too strong." What the hell does all this mean? I don't know if it means anything. But I can't help being reminded of this scene in
Repo Man
where Tracey Walter's character Miller might have an explanation with his
"lattice of coincidence"
theory:
A lot of people don't realize what's really going on. They view life as a bunch of unconnected incidents and things. They don't realize that there's this, like, lattice of coincidence that lays on top of everything. Give you an example, show you what I mean: suppose you're thinkin' about a plate of shrimp. Suddenly someone'll say, like, "plate," or "shrimp," or "plate of shrimp" out of the blue, no explanation. No point in lookin' for one, either. It's all part of a cosmic unconsciousness.
There ain't no difference between a flying saucer and a time machine. People get so hung up on specifics they miss out on seeing the whole thing. Take South America for example. [In] South America, thousands of people go missing every year. Nobody knows where they go, they just, like, disappear. But if you think about it for a minute, you realize something. There had to be a time when there was no people, right? Well where did all these people come from, huh? I'll tell you where. The future. And where did all these people disappear to? [Otto: The past?] That's right! And how did they get there? Flying saucers. Which are really..? Yeah, you got it, time machines. I think a lot about this kind of stuff.
The more you drive, the less intelligent you are.
One more thing. It was pointed out to me by conniption at
Rigorous Intuition
that another car burst into flames this summer. Again, it was in southern California. Again, there is a Hollywood connection:
Dick Van Dyke Escapes As Car Bursts Into Flames




Tuesday 20 August 2013





Veteran actor Dick Van Dyke has escaped unscathed after his car burst into flames on a Los Angeles motorway.






Dick Van Dyke car crash The burnt remains of Van Dyke's car (Pic: Arlene Van Dyke)
Again, I have no explanation for what it all means. It's just
frickin' weird!