There are two factors motivating my writing of yet another blog post on the assassination of JFK. First, I want to follow up on my most
recent post
on my love for Choose Your Own Adventure books to say that my youngest sister was kind enough to fulfill my birthday request for a present of the Lose Your Own Adventure book
Who Killed John F. Kennedy?
To say that my enjoyment of this book exceeded my expectations is an understatement. I just wrote a
review
on Amazon to express just how good I think this book is.
One thing I didn't include in my review that I want to write about here: I actually learned something new about the JFK assassination through this book. Did you know that on November 20, 1963, two days prior to the assassination, two Dallas police officers on patrol entering Dealey Plaza saw several men engaged in mock target practice aiming rifles over the fence on the grassy knoll in the direction of the plaza? I didn't know this until I read it in a Lose Your Own Adventure book, which is a testament to how seriously Justin Sewell took his research in preparing the book. It seems that there is confirmation of this in two separate books, which the
following blog post
references:
Thursday, August 18, 2005

Target Practice in Dealey Plaza

From Mafia Kingfish by John Davis (paperback Signet Books edition, 1989)



That same morning [Wednesday, November 20, 1963], in the center of Dallas, two police officers on routine patrol entered Dealey Plaza, through which the presidential motorcade would pass on Friday, and noticed several men standing behind a wooden fence on a grassy knoll overlooking the plaza. The men were engaged in mock target practice, aiming rifles over the fence, in the direction of the plaza. The two police officers immediately made for the fence, but buy the time they got there the riflemen had disappeared, having departed in a car that had been parked nearby. The two patrol officers did not give much thought to the incident at the time, but after the assassination of the President two days later, they reported the incident to the FBI, which issued a report of it on November 26. For reasons that have never been satisfactorily explained, the substance of the report was never mentioned in the FBI's investigation of the assassination and the report itself disappeared until 1978, when it finaly resurfaced as a result of a Freedom of Information Act request.

I have been unable to track down this November 26 FBI report. However, confirmation of it comes from historian Michael Kurtz in his book Crime of the Century where on page 218 of the second revised edition he says:



Two days before the assassination, two Dallas police officers were making their usual rounds on patrol. As they entered Dealey Plaza, they observed several men engaged in target practice with a rifle. The men were situated behind the wooden fence on the Grass Knoll. By the time the policemen reached the area the men had vanished, apparently leaving in a car parked nearby.

Kurtz cites an FBI report, 26 Nov 1963, from Federal Bureau of Investigation. Papers on the Assassination of President Kennedy. 15 vols., 3847pp. Linus A. Sims Memorial Library, Southeastern Louisiana University, Hammond, LA
Until I actually read the report from the police officers, one of whom, if Sewell's research is correct, is Captain George Doughty, I will withhold from confirming the veracity of the claim. If true, it would be pretty ridiculous to try to dismiss it as coincidence. Honestly, if you're going to resort to cliche and apply Occam's Razor, isn't it
more
likely that such an incident two days prior in the same damn place is indicative of foreknowledge and conspiracy than simply
just one of those things?
I keep coming back to the Kennedy assassination, not just because of an intense personal interest, but because it continues to generate popular responses here. The post that has received the most comments so far on this blog is
The Defense Intelligence Agency (DIA), Operation Gladio and the Assassination of JFK
. The most recent comment from Tommy Wilkens posed the question, "How do you see George de Mohrenschildt's involment ?? Isn't he really one of the keys to this whole mystery ??" My attempt to answer that made me realize an appropriate response deserves its own blog post. But if I'm going to explore de Mohrenschildt, I'm also going to have to explore his accomplices in subterfuge, Michael and Ruth Paine. Together, they represent a confederacy of connections central to the assassination because of all the interests their lives intersect with: oil, intelligence, military, business, organized crime, the Russians, the Nazis, the Bushes, and most important, Oswald himself. That list of interests, believe it or not, is abridged. This is only a blog post, after all, and the connections, both in number and importance that these three characters have with parties who stood to profit most from the assassination of JFK deserves its own book.
Let's start with George de Mohrenschildt. He was born in Russia on April 17, 1911;
Spartacus
has a very revealing biography on him worth reading. According to Jim Garrison's
On the Trail of the Assassins
, George's father Baron Sergius de Mohrenschildt was governor of the province of Minsk for the Czar. Clearly he was born into a life of privilege that would not have been compatible with the coming revolution. As the Spartacus link shows, the riches of his noble lineage come from oil; his father and uncle ran Branobel Oil Company in Baku. So it should be no surprise that after his father was imprisoned and then escaped with his family from the Bolsheviks to Poland in 1921, George eventually became involved in the oil business. What is surprising is who he went to work for a year after emigrating to America in 1939: Humble Oil, co-founded by Prescott Bush. This was not his only Bush family contact. He also met Prescott's son George H. W. Bush during the 1940s when Bush's roommate at Andover was Edward Hooker, de Mohrenschildt's nephew, whom he would continue working with in 1950 with the oil investment firm Hooker and de Mohrenschildt. It was during the 1940s that strangely enough, de Mohrenschildt met young Jacqueline Bouvier, who would sit on his knee and call him "Uncle George." He seemed to hobnob with the elite all his life; he went on to work for Pantopec Oil in Venezuela during the 1940s. This company was owned by the Buckley family (as in William F.) and had connections with the CIA.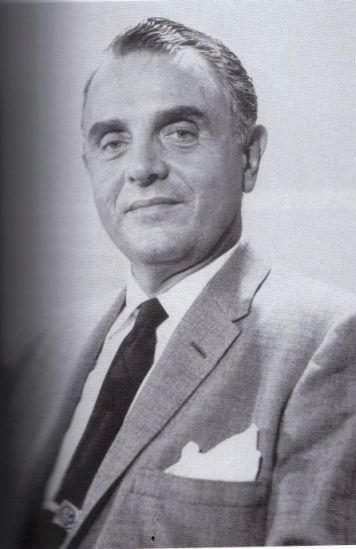 George de Mohrenschildt
I'm getting ahead of myself. In addition to oil, de Mohrenschildt also was coming on the radar for his skills in the department of espionage. Prior to coming to America, he claimed that he was involved in a pro-Nazi plot to kill Joseph Stalin. This claim may have validity as British intelligence services warned the American government that de Mohrenschildt may be working for German intelligence. Prior to working for Humble Oil, he worked for the Shumaker company in New York under Pierre Fraiss, connected with French intelligence. There de Mohrenschildt collected intelligence on people involved in "pro-German activity." But according to Dick Russell's
The Man Who Knew Too Much
, George later told his wife Jeanne (whom he married in 1959) that while he was a French counter-intelligence operative in World War II, he was "playing a double game." This revelation seems pertinent regarding his work on a documentary on the Polish resistance in 1941 by Film Facts. This company was run by his cousin, Baron Maydell, a known Nazi sympathizer.
It is within this context that we may understand de Mohrenschildt's original motivating factors for working with American intelligence. He attempted to join the forerunner of the CIA, the OSS, in 1941 but failed. His next formal interaction with the CIA happened in 1957 when he made an extended trip to Yugoslavia for the International Cooperation Administration looking for government help on an oil deal. In response, Richard Helms, Deputy Director of Plans for the CIA at the time, wrote a memo that George provided Yugoslavian foreign intelligence "disseminated to other federal agencies in 10 separate reports" as documented by James W. Douglass in
J.F.K and the Unspeakable
. As a result of this, the CIA claims it maintained informal contact with de Mohrenschildt until 1961.
There is considerable evidence the CIA is being dishonest about that date. First, there is George's association with J. Walton Moore, which began in 1957. De Mohrenschildt insists that an "associate" of Moore gave him Oswald's address and Moore, by phone, "encouraged" the relationship, according to Dick Russell's
The Man Who Knew Too Much
. They seemed to hit it off immediately. On October 7, 1962, George visited Oswald in his Fort Worth apartment. The very next day, Oswald packed and moved 30 miles to Dallas, where de Mohrenschildt lived, and according to George's wife and daughter, he got Oswald a job at Jaggers-Chiles-Stovall, a graphics house with a Pentagon contract where Oswald would be doing photographic work at a time when U-2 jets were taking the photos over Cuba that lead to the Cuban Missile Crisis. Interestingly enough, it was during this same time, October 1962, that according to Dick Russell, de Mohrenschildt told Moore that he had a manuscript from Oswald detailing his time spent in Minsk. Shortly after mentioning this, his apartment was robbed. Moore, the CIA's Domestic Contacts person in Dallas at this time, naturally denies any involvement with hooking up Oswald with de Mohrenschildt.
But there is another CIA contact with de Mohrenschildt in which we have a paper trail documenting this. According to John Newman's
Oswald and the CIA
, George's other CIA contact at this time was Nicholas M. Anikeeff, who knew him since World War II. Anikeeff met with de Mohrenschildt in the spring of 1963 in Washington D.C. prior to his trip to Haiti. At the time, Anikeeff was branch chief of the Soviet Russian Division. This is documented proof the CIA was lying about maintaining contact with de Mohrenschildt only through 1961. Nor was Anikeeff the only high official de Mohrenschildt met with regarding his trip to Haiti. He met in New York City and Washington D.C. with CIA and military intelligence officials, including
Dorothe Matlock
with the Army chief of staff for intelligence and liaison to the CIA. L. Fletcher Prouty said Matlock was "from a real black intelligence arm of the Pentagon. It's very strange that she met with de Mohrenschildt."
He also met with
Thomas J. Devine
, who in addition to serving the interests of the CIA, was one of George H. W. Bush's colleagues at Zapata Off-Shore Company. Perhaps this explains why when police found George de Mohrenschildt dead from a gunshot wound to the head on March 29, 1977, they found an address book from the 1950s with a Midland address for George Poppy Bush (Poppy is a well-known nickname for Bush 41) and a Zapata reference. Perhaps Bush's contact with de Mohrenschildt was more extensive than what he admitted as Director of Central Intelligence when de Mohrenschildt reached out to him for help in 1976 to stop the harassment he felt he was receiving from federal agents as far as knowing him in the 40s through Edward Hooker. Bush replied he was "unable to find any indication of interest in your activities on the part of Federal authorities in recent years." Jeanne de Mohrenschildt, as well as many others, do not believe that George committed suicide.
Getting back to the Haiti trip, there are a number of different views about it. For the lone-nut theorists, this was a straight-up business trip that gave de Mohrenschildt a perfect alibi for not being involved in Oswald's business on November 22, 1963. Being out of the country at the time of the assassination, he could then be called in by the Warren Commission (Prouty said de Mohrenschildt had several private lunches with Allen Dulles during the time he was testifying before the Warren Commission) and recount his association with Oswald without the slightest suspicion of anything untoward. Others see the Haiti oil exploration deal as quid pro quo by the CIA for taking Oswald under his wing. But in
Deep Politics and the Death of JFK
, Peter Dale Scott examines another angle to the trip through connections to organized crime. Chiefly, this connection comes through de Mohrenschildt's partner on the Haiti trip, banker Clemard Charles, who had a Pentagon-CIA meeting with de Mohrenschildt in Washington D.C. in May 1963. Charles's mob contacts were Andre Labay, a French intelligence agent and drug trafficker,
Mitch WerBell III
, an OSS operative later infamous as a representative of
Nugan Hand Bank
, and
Mario Renda
, for whom Charles laundered money for in the 80s. Renda was a Savings and Loan broker for Carlos Marcello associate Herman Beebe. Beebe is also connected to de Mohrenschildt through his "walking trip" through Mexico in 1960. His companion was Tito Harper, whose brother Richmond Harper was indicted in 1972 in a complex arms-for-drugs smuggling plot with Murray Kessler, a Gambino family associate, and
Barry Seal
, infamous for both the Bay of Pigs and Iran/Contra, among other things. As Scott puts it, "This tripartite example of an intelligence-mob-corporate gray alliance, one of many in this period, is an example of the kind of milieu in which a plot against the President could have developed."
Now, let's get neck-deep in the corporate dirt. Through his position in the oil industry, de Mohrenschildt was friendly with many tycoons. In addition to the names mentioned above, he either worked for or was friends with John Mecom, Sid Richardson, Clint Murchison and Haroldson L. Hunt. Both
Murchison
and
Hunt
have long been suspected of involvement in the JFK assassination. Much of the hobnobbing occurred through organizations of mutual interest. In 1952, de Mohrenschildt moved to Dallas and joined the exclusive Dallas Petroleum Club, as well as attending regular meetings of the Council on World Affairs, (created by Bush family friend and head of Dresser Industries, later Halliburton, Neil Mallon) according to his Warren Commission testimony. It is in the realm of the oilfield services industry that we see some strange alliances form. One is familiar to researchers through his association with Lyndon Baines Johnson,
George Brown
, head of the corporate giant Brown and Root. De Mohrenschildt worked for George and was also friends with his brother, Herman. There is another less familiar, but equally intriguing: the Schlumberger Corporation.
According to
On the Trail of the Assassins
by Jim Garrison, de Mohrenschildt was a close friend of Jean de Menil, the president of Schlumberger which had close ties with the CIA. This was corroborated by Dick Russell, who in
The Man Who Knew Too Much
mentioned that de Menil allowed his New Orleans branch to be used as an ammunitions conduit for the CIA. What is truly illuminating about this alliance is detailed in a footnote by Garrison on page 61, "The CIA and Schlumberger had a mutual interest in the OAS, an organization led by former French generals who had revolted against President Charles DeGaulle in 1961 when Algeria was in the process of winning its independence. The Agency had been a staunch, although secret, supporter of the French anti-Gaullist movement." In my earlier post
The Defense Intelligence Agency (DIA), Operation Gladio and the Assassination of JFK
, I documented how the Organisation Armee Secrete (OAS) had a captain, Jean Rene Souetre, who had previously attempted an assassination of de Gaulle who the CIA verified was "in Dallas in the afternoon" of November 22, 1963 and "expelled from the U.S....48 hours after the assassination." There were further revelations by Dick Russell that the OAS had contact in New Orleans with anti-Castro groups, that Souetre met Howard Hunt in March-April 1963, and that Souetre was training with Alpha 66 in the New Orleans Mandeville region in the summer of 1963 - headquartered at the infamous 544 Camp Street address that appeared on Oswald's handbills. So it appears that on the "industrial" side of the Military-Industrial Complex conspiracy to assassinate JFK, de Mohrenschildt's close friend Jean de Menil was involved in a support role similar to
CMC/PERMINDEX
in facilitating OAS's involvement in the assassination, with guidance from elements of the CIA and DIA.
There are more strange threads to de Mohrenschildt, but the most integral to the assassination concerns his connection to Michael and Ruth Paine. The Paines met Lee and Marina Oswald through a party arranged by George. I think James W. Douglass does the best job of explaining the true significance in
J.F.K and the Unspeakable
:
When de Mohrenschildt left Dallas in April for Haiti (stopping off in Washington D.C. for a meeting with CIA and Army intelligence officials), Ruth and Michael Paine stepped into his place as the Oswald's Dallas benefactors.
It was as if de Mohrenschildt had handed off the Oswalds to the Paines like a football in a reverse end run. When the Dallas play-action began, the Oswalds were being carried by a prominent White Russian anti-Communist. As de Mohrenschildt with CIA assistance left the Dallas action for Haiti, the Oswalds were suddenly in the hands of a Quaker-Unitarian couple who belonged to the ACLU. If it was in fact a handoff, one trick play in a larger game plan, its sleight of hand was so successful that when the game was over, hardly anyone even remembered this one critical play.
Ruth and Michael Paine
The image of the Paines as ideologically liberal, the "Quaker-Unitarian couple who belonged to the ACLU" is part of the Warren Commission legend. In the context of the times, this gave them a 'safe' background, normal, ordinary, nothing unusual, everything on the up-and-up, like liberal JFK himself. It was all just a terrible mistake that this average middle-class couple hooked up with a Marxist presidential assassin and his Russian wife. That Ruth convinced Marina Oswald to move in with her while Lee was stirring up trouble in New Orleans was just an unfortunate accident.
But as with most facile legends, a deeper examination reveals a darker reality. Jim Garrison discovered outlines of this during his investigation of the JFK assassination as District Attorney of New Orleans. When he tried to obtain the income tax returns of Michael and Ruth Paine, he found out they were classified as secret. He also learned that there were at least 33 Warren Commission documents; Document 212 relating to Ruth, 218 relating to Michael, 258 relating to Michael, 508 relating to Michael's sister and Documents 600
through
629 regarding relatives of Michael Paine
all classified as secret
. Why all the hush-hush, not just over this supposedly average middle-class couple, but their relatives as well? More about that later.
James W. Douglass, through his phenomenally researched
J.F.K and the Unspeakable,
sheds some light on why Garrison faced these roadblocks in regard to Ruth and Michael. FBI director J. Edgar Hoover had written a letter to the Warren Commission October 23, 1964 urging them not to release certain FBI "reports and memoranda dealing with Michael and Ruth Paine and George and Jeanne de Mohrenschildt." Hoover warned, "Making the contents of such documents available to the public could cause serious repercussions to the Commission." Why? Perhaps part of the reason is the Paine's ties with the intelligence community, especially through Ruth. Her father, William Avery Hyde, received a government contract from AID for three years as their Regional Insurance Adviser for all of Latin America in October 1964, right after the publication of the Warren Report. I've written
previously
about how AID has provided cover for the CIA; Hyde's end-of-tour report in 1967 did in fact go to the State Department and the CIA. Ruth's younger sister Sylvia Hyde Hoke, whose husband worked for AID, had been working for the CIA since 1955. Ruth claimed not to have known where her sister worked when questioned under oath by Jim Garrison in 1968; since her sister's CIA files were classified, Garrison couldn't find out. Finally, Marina Oswald was advised by the Secret Service to stay away from Ruth Paine because "she was sympathizing with the CIA."
How might this "sympathizing" been expressed? Ruth was the one who not only got Lee Oswald an interview for his fateful job at the Texas School Book Depository, but when a call to the Paine household about a better higher paying job for Oswald as an airport cargo handler came in, she turned down the offer and did not inform Oswald of it. She also showed a similar helpfulness regarding a letter that Oswald supposedly composed to the Soviet Embassy (they later determined it was a CIA plant) on November 9, 1963. Though Ruth testified that "my tendency is to be very hesitant to look into other people's things," she secretly read his rough draft after he left the room having typed the final version. She copied the rough draft by hand as he took a shower and though she claimed under oath, "I am not used to subterfuge in any way," she took his draft of the letter and hid it in her desk to give to the FBI next time they came. After the assassination, she provided crucial evidence to bury Oswald: photos of Oswald posing with guns and commie rags, the "spy camera", fake Alek Hidell documents. She lead police to the blanket where he supposedly stored his Mannlicher-Carcano rifle. She dragged her feet on getting Oswald legal representation, though she and her husband were ACLU members.
But in spite of all this evidence of back-stabbing, there is the possibility Ruth may have tried to help Oswald in his role in the conspiracy. Deputy Sheriff Roger Craig identified Oswald leaving the Texas School Book Depository at 12:40 pm on November 22, 1963 getting in a light green Rambler station wagon on Elm Street driven by a husky Latin male. This fact was confirmed by Oswald himself, but when the police pressed for further details, he replied, "That station wagon belongs to Mrs. Paine. Don't try to drag her into this." Perhaps attempting to conceal her role, but possibly realizing his cover was blown, Oswald then muttered in a low dejected tone, "Everybody will know who I am now."
With Michael Paine, there are not only intelligence connections in his history, but a unique bloodline with the elite of society, much of which I learned about through
Sinister Forces Book One: The Nine
by Peter Levenda. On his father's side, Michael's lineage goes back to Robert Treat Paine, a signer of the Declaration of Independence. His father George Lyman Paine Jr. was a Trotskyite leader in California, yet had intelligence connections through CIA consultant James Burnham, a Trotskyite colleague. Burnham was a friend of William F. Buckley Jr. and Howard Hunt. On his mother's side, Ruth Forbes Paine Young was a descendant of the blue-blood Forbes family of Boston. Allen Dulles knew her through her best friend, Mary Bancroft. Bancroft worked side by side with Dulles in Switzerland as a spy during World War II and became his mistress. She was also the mistress of Henry Luce (of Time-Life, where the Zapruder film wound up. Fans of the Zucker-Abrahams-Zucker
Kentucky Fried Movie
might understand how he helped add to the confusion.) After divorcing George Paine, Michael's mother married Arthur Young.
It is through Michael's stepfather that we can understand deeper connections to the JFK assassination through the Military-Industrial Complex. I believe Oliver Stone was hinting at this in the movie
JFK
during the scene where X, played by Donald Sutherland, explains to Jim Garrison some of the darker, more powerful forces and motives at work in the conspiracy:
You know how many helicopters
have been lost in Vietnam?

Nearly
three thousand so far.

Who makes
them?

Bell Helicopter.

Who owns
Bell?

Well, Bell was nearly bankrupt when
the First National Bank of Boston
approached the CIA about developing
the helicopter for Indochina usage.
How 'bout the f-111 fighters?

General
Dynamics in Fort Worth, Texas.

Who owns
them?

Find out the defense budget
since the war began.

$75 going on a
hundred billion ... Nearly $200 billion'll
be spent before it's over.

In 1949 it
was $10 billion.

No war, no money.
The organizing principle of any society,
Mr. Garrison, is for war.
The authority of the state over its
people resides in its war powers.
Perhaps the reason why out of all the historical characters in the movie, the Paines are among the few not identified by name, renamed Janet and Bill Williams, is that through Michael Paine there is a direct connections with one of the entities Stone calls out above, Bell Helicopter. It runs deeper than the fact that Michael was working as a research engineer with Bell Helicopter at the time he was questioned by the Warren Commission. His stepfather, Arthur Young, was the
inventor
of the Bell Helicopter. Prior to working directly for Bell, Michael worked directly for his stepfather. He set up shop in Arthur Young's barn in the early 1950s building model helicopters until the summer of 1959. As with his wife, there seems to be a disparity between the image of him and the reality. They were Quakers, which projects an image of pacifism - yet Michael spent two years in the Army and was sent to Korea at the height of the Korean War. No mention of his war record was made in the Commission transcripts. He took Oswald to his first ACLU meeting, but also took Oswald to his first John Birch Society meeting. He had a security clearance with Bell Helicopter, but told the Warren Commission he didn't know what the classification was.
While we can only imagine what degree of influence Arthur Young had over getting his stepson a job at his old firm, there is no question about who was running Research and Development at the time Michael Paine workde for Bell: former
Nazi General Walter Dornberger
. This scientist, brought to the United States with his protege
Wernher von Braun
as well as more than 1000 German scientists, many suspected of being Nazis, by the Army as part of
Operation Paperclip
in the 1940s, was no lip-service Nazi. He was the chief of the Nazi space program at Peenemuende and, later, at the
Mittelwerke
at Nordhausen. He was responsible for the deaths of thousands of concentration camp inmates as slave laborers. Yet instead of being prosecuted at Nuremberg, he was brought to America to become an integral part of the Military-Industrial Complex.
Which kind of prompts a larger question: who really won the war anyway?